Contact Info
Concierge Lab Services LLC
152 N. Harbor City Blvd
Suite 101
Melbourne, FL 32935
Phone: 321-312-6992
Fax: 321-751-6851
Contact Form
Website:
www.conciergelabsfl.com
Photo Tour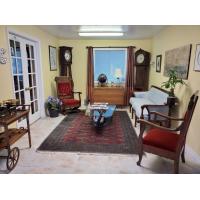 Hours of Operation
Monday - Friday: 7 AM - 6 PM
Saturday - Sunday: 9 AM - 2 PM
About Us
Concierge Lab Services, LLC is a consumer health and wellness lab service that offers 1,000's of lab tests, with or without a doctor's prescription, at a more reasonable cost than most labs, and within a general turnaround time of 24-48 hours. Consumers may obtain their lab specimen either at our location, or in the comfort of their own home, office, or any private setting, at their convenience by appointment only.

We are a licensed and insured company with two primary objectives - customer convenience and quality service. For us, saving your time and ensuring your health and safety are the most important priorities. We provide reliable, discreet, and courteous services. We follow all HIPAA rules and regulations to ensure your privacy at all times.
Concierge Lab Services lab technicians provide professional, dependable, and caring service. They are background and certification screened upon hire and trained to specialize in hard sticks and infant specimens.
At Concierge Lab Services, LLC, no insurance is required.
We accept self-pay, Mastercard, Visa, American Express, HSA, & FSA.
Concierge Lab Services covers all Brevard County, Osceola County, Orange County, and the Treasure Coast to West Palm Beach.